The Champions Giving Back charity fundraising event sponsored by the American Legion Post 68 baseball team is well underway, with the goal of raising at least $100,000 for four local charities and The V Foundation.
This year's event is the second annual fundraising event for the baseball team, which raised $22,000 for the family of Owen Matthews last summer. Matthews died at age 11 last November from a rare form of cancer.
Champions Giving Back put on a bourbon-tasting event last Thursday at Eddy Creek Marina in Lyon County that featured a number of regionally-distilled products, including Post 68 Baseball Bourbon that has been bottled but not sold until Thursday.
Bottles of the baseball-based bourbon sold for $168 for large bottles and $100.68 for the small bottles.
The Post 68 Baseball Bourbon is distilled at the Coal Pick Distillery in Muhlenberg County. The distillery has given bottles as gifts, but has bottled only one barrel in the last eight years, said Post 68 general manager Bob Harbison, adding the distillery plans to introduce the product in late summer.
Harbison said the idea to have a bourbon-tasting came from distillers the team leaders met with.
"Boy, it took off," Harbison said. "We've been with probably 15 or 20 of the distillers, now, from around the state, and they've all been just great. They benefit from it, too; it gets their name out there."
Live entertainment by 14-year-old Annabel Whitledge of Henderson and hors d'oeuvres highlighted the afternoon event.
"We had a live auction here for a large gift basket," Harbison said. "We announced that our internet auction goes live next Friday, the 28th. It's a nationwide internet auction
"There is a lot of sports memorabilia, but there are other things as well," Harbison said. "There are organs, I think there's a motorcycle on there — there's all kinds of stuff."
Team coach Greg Vincent said the auction will be handled by a third party, AuctionFrogs, based in Boise, Idaho.
People can view some of the auction items at champs68.afrogs.org; others will be added before the auction begins at 8 a.m. Friday.
"You can go there now and register," Vincent said. "There are some swag items like T-shirts and hoodies and stuff on there right now. As we get more, they will put it on there."
Dick Vitale of The V Foundation has played an integral part in providing auction items for the fundraiser, including basketballs autographed by Michael Jordan and other items donated by big-name sports celebrities.
The auction will run from Friday through June 18.
T-shirts are also being sold to help with the fundraising, and more information can also be found on the "Post 68 Baseball: Champions Giving Back" Facebook page.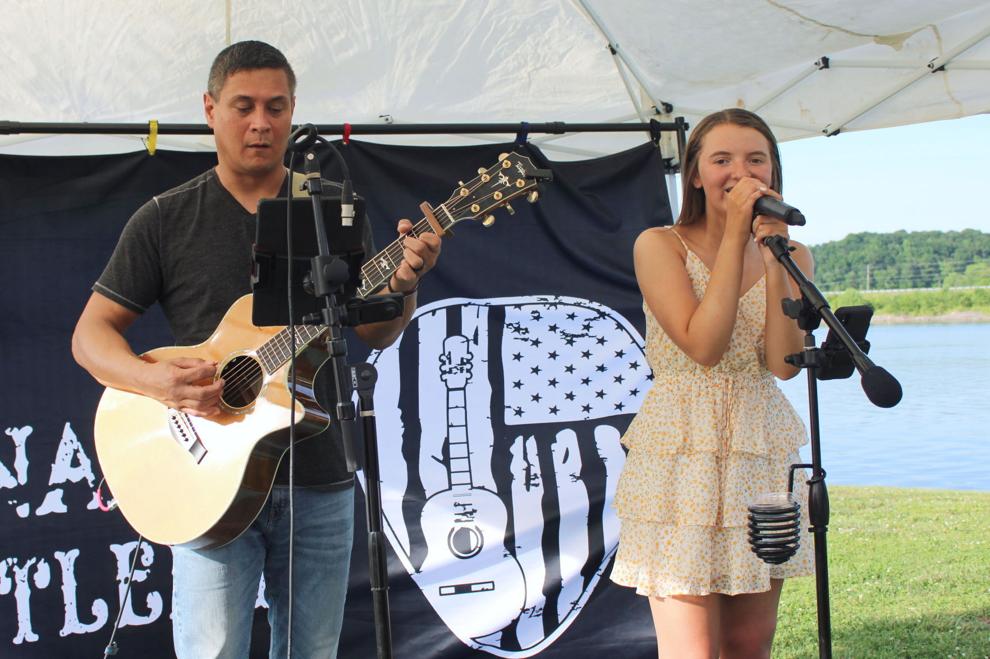 The main event in Champions Giving Back is the Chappell Allen invitational baseball tournament featuring eight teams from five states, including the Post 68 team on June 17-20 at Lee S. Jones Park in Eddyville.
The Lake Barkley Chamber of Commerce, Lyon County Sheriff's Office and Eddyville Police Department started a business challenge in association with Champions Giving Back on May 1, encouraging businesses to pledge money for each home run hit during the invitational.
The chamber recently announced that Trice Hughes pledged $100 for each home run, while Willow Pond Southern Catfish is pledging $68 per home run, the minimum bid taken by the chamber. U-Ride is making a $600 donation to the invitational.
Businesses wanting to make a donation should contact Deb Domke at the Lake Barkley Chamber of Commerce by calling 270-388-4769 or emailing to lakebarkleychamber1@gmail.com.
Proceeds from this year's Champions Giving Back fundraiser will benefit:
• The Wounded Warrior Project, chosen because Owen Matthews' father was a decorated veteran who lost both legs in Afghanistan during his third tour.
• The Cullen Brown Foundation, named for the Eddyville golfer and high school champion who died Aug. 4 from osteocarsoma, or bone cancer, in his sophomore season at the University of Kentucky.
• Nonnie's Place, which helps women raising children under difficult circumstances, often those dealing with domestic abuse issues.
• Lara's Celebration, which works to meet the needs of cancer patients and survivors in this area and raises money for local students to attend college.
• The V Foundation for Cancer Research, which was founded in 1993 by ESPN and the late Jim Valvano, the legendary North Carolina State University basketball coach and ESPN commentator.
The V Foundation has funded more than $260 million in game-changing cancer research grants nationwide through a competitive process strictly supervised by a world-class Scientific Advisory Committee.