The Champions Giving Back series of charity events continues in July with a visit from U.S. Rep. James Comer (R-Ky.), who represents District 1 of Kentucky.
"Sundaes with the Congressman" will take place from 3 to 5 p.m. July 7 at the Kentucky Soybean State Office at 1000 U.S. 62 West in Princeton across the highway from the Caldwell County Farm Bureau office.
Tickets for the private function are $24.68 per couple and $15.68 for individuals. Tickets can be purchased at The Joint-BBQ, Wings & More, Payroll Vault, the Kentucky Soybean State Office, Lyon County Sheriff Brent White's office, Eddyville Police Chief Jamie Green, Lyon Nutrition at Eddyville Mall, Eddy Creek Marina, Post 68 Coach Greg Vincent and Jeff Darnell.
The Joint-BBQ, Wings & More is providing the sundae ingredients for the old-fashioned ice cream social.
Post 68 General Manager Bob Harbison said the ice cream social with Comer will help bolster the team's fundraiser.
"Rep. Comer had heard about our fundraising and wanted to know what he could do," Harbison said. "When we put this together, the 7th was the only date the congressman had. He said he absolutely wanted to come and help out with the fundraising because he thought that was great that the boys were involved in it."
Champions Giving Back is a series of events sponsored by the American Legion Post 68 baseball team in Eddyville. The charity mega-event seeks to raise $100,000 for four regional charities: the Cullen Brown Foundation, Lara Celebration, Nonnie's Place and the Wounded Warrior Project, and The V Foundation for Cancer Research, a national organization.
Champions Giving Back is sponsoring a two-man golf scramble on July 16 at Princeton Country Club. Those wanting to take part can call Vincent at 270-316-0177 or Alexis George at 270-963-1253.
Vincent said while the goal has not yet been reached, he is impressed with how much the series of events has raised for the five charities.
"I'm amazed at where we're at so far; I mean, it's going good — it's going very good, to be honest with you," he said. "We're going to go ahead at the first of the week and write everybody a small check — our first payment — and let them know when we get everything done — it will probably be Aug. 1."
Vincent said hosting such a massive event to raise money for the benefit of others has moved him.
"It's been fantastic — just fantastic; it really has," he said. "Anytime I've ever coached, I always tell them we're going to win. So, yes, I thought we would (be successful with the charity events), and then, I had a period there where I thought, 'We're not going to make it.'
"If we can end up around $75,000 — which I think we can — I think it's a big win for all of the charities and for the community and for Post 68 Baseball."
This is the second year the Post 68 baseball team sponsored a charity fundraiser, beginning last year by raising $22,000 for the family of Owen Matthews of Eddyville, who died last November from a rare form of cancer.
This year's Champions Giving Back charity series began with a bourbon tasting event on May 20 at Eddy Creek Resort. Bottles of Post 68 Baseball Bourbon were sold for $168 for large bottles and $100.68 for smaller bottles. Those interested in buying bottles of product can contact Vincent.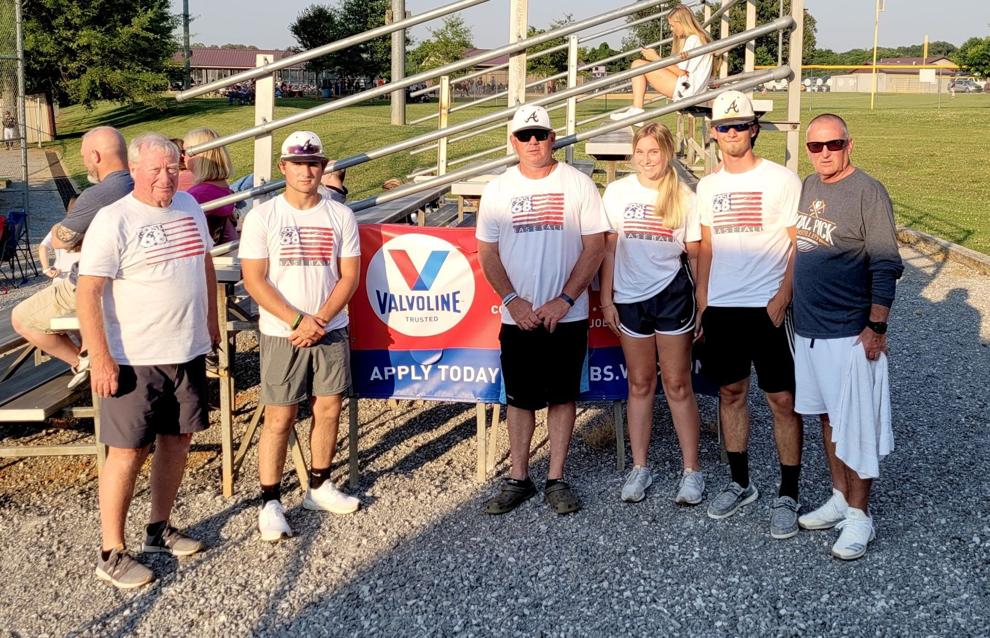 There was a business challenge set up by White, Green and Deb Domke, the executive director of the Lake Barkley Chamber of Commerce that began on June 1 and will run through the end of the month.
Post 68 also began an online auction that day that ran through June 19, featuring items autographed by sports stars. The online auction was run through champs68.afrogs.org.
The highlight of the fundraising event was the fifth annual Chappel Allen Invitational, which was held June 17-20 and featured eight baseball teams from Mayfield, Madisonville, Frankfort and the host Post 68 team along with teams from Newburgh, Indiana; Rockport, Indiana; Westmoreland, Tennessee; and Nashville, Tennessee. The invitational was played at Lee S. Jones Park in Eddyville.
Vincent can be contacted for tickets to the Comer event, information about the golf scramble or to make a donation to Champions Giving Back at 270-316-0177.