FRANKFORT, KY — Gov. Andy Beshear announced 157 new COVID-19 vaccination sites in Kentucky Thursday, bringing the total number of locations in the state to 567.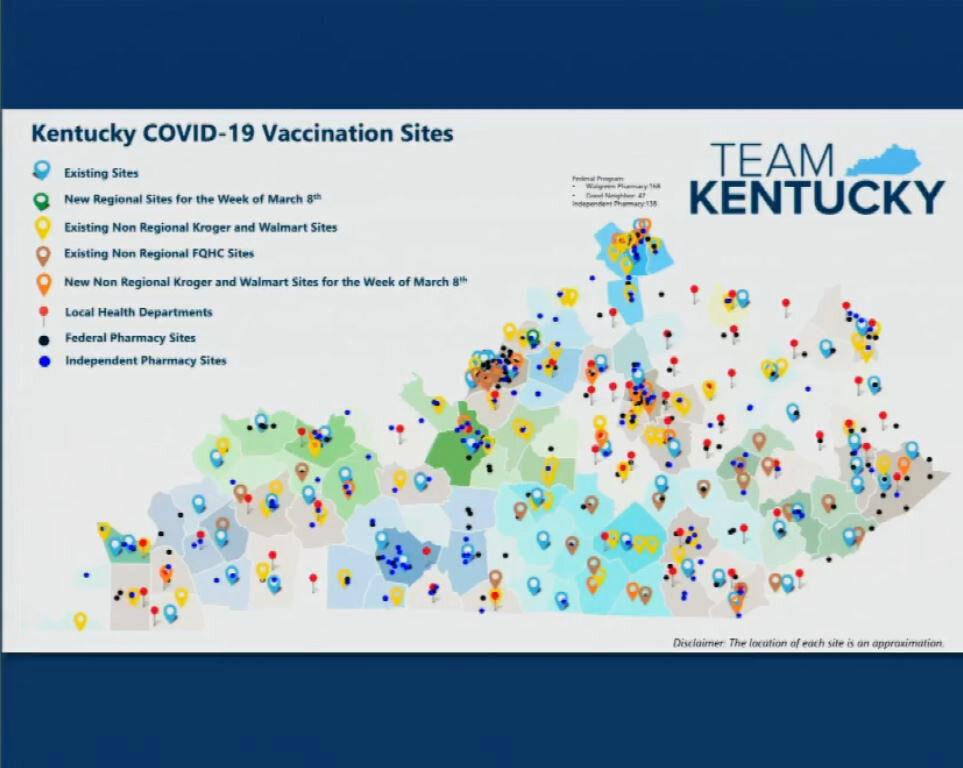 Announcing the new locations during an briefing Thursday afternoon, Beshear said the new locations include one new regional site, which is Baptist Health La Grange, as well as 10 new Kroger sites, 10 new Walmart sites and 136 federal pharmacy program sites. The federal program includes Walgreens and Good Neighbor independent pharmacies. 
The governor said the new Walmart locations include one in Marshall County, as well as two in Jefferson County and one each in Ohio, Pike, Franklin, Hardin, Boone, Kenton and Wayne counties. He said the new Kroger locations include three in Fayette County and one each in Daviess, Jefferson, McCreary, Bell, Madison, Mercer and Campbell counties.  
Beshear said independent pharmacies all across Kentucky will be getting doses of the newly approved one-dose Johnson & Johnson vaccine. Beshear said after those pharmacies will receive their first shipment, there will be a week's delay before they receive their next allotment. But, after that, Beshear said there will be a "significant ramp up" of doses from the company. 
LOCAL COVERAGE: Mayfield pharmacy to get Johnson & Johnson vaccine, in addition to Moderna
On Tuesday, President Joe Biden announced that the United States expects be able to vaccinate all adults in the country by end of May. Beshear on Thursday said Kentucky is expected to be able to vaccinate another 2.5 million people in the next three months. 
COVID-19 report 
Beshear on Thursday announced 1,068 new COVID-19 cases in Kentucky, as well as 28 new virus-related deaths. The governor reiterated that the state is not going to lift its mask mandate, saying "we're not going to do what Texas or Mississippi have done." 
The governors of those states on Tuesday announced they would be lifting their state's mask requirements, despite warnings from health officials that doing so is not yet safe. Beshear on Tuesday characterized that decision as "irresponsible" and said "How many times are some going to make decisions that they know have enormous potential costs of human life? And also, why would you take such a huge risk on human life right now?"
On Thursday, Beshear said "what those states are doing is irresponsible," and asked Kentuckians to continue wearing masks and practicing social distancing to prevent further loss of life. 
The state's positivity rate for COVID-19 test results is 4.45% on Thursday, which is the lowest it's been since Oct. 12. 
To date, Kentucky has had 408,440 known COVID-19 cases, including 4,732 deaths.