FRANKFORT, KY — The Kentucky Department for Public Health reports 722 new COVID-19 cases across the state Monday, as well as 23 new virus-related deaths. 
The new cases include 147 children and teens age 18 and younger, KDPH reports. 
Over the weekend, KDPH reported 3,830 new COVID-19 cases, including 2,403 cases Saturday and 1,427 cases Sunday. Seventy-four deaths were reported over the weekend, including 53 deaths Saturday and 21 deaths Sunday. 
As of Monday, 1,399 Kentuckians are hospitalized with the illness, including 418 in intensive care units and 266 on ventilators. 
The state's positivity rate for COVID-19 test results is now 8.26%, a slight decrease from Sunday's rate of 8.42%.  
The COVID-19 incidence rate remains high across the commonwealth, coming in a 39.19 average daily cases per 100,000 people based on data from the past seven days. That means the state as a whole is in the red zone.
More than a dozen counties are in the COVID-19 orange zone, which means those communities have substantial incidence rates. Two counties in eastern Kentucky are in the yellow zone, which indicates moderate virus spread. 
None of the state's 120 counties are in the green zone, which would indicate low incidence rates. 
In the Local 6 area, Ballard, Caldwell, Carlisle, Marshall and Lyon counties are in the red zone. Calloway, Crittenden, Fulton, Graves, Hickman, Livingston McCracken and Trigg counties are in the orange zone.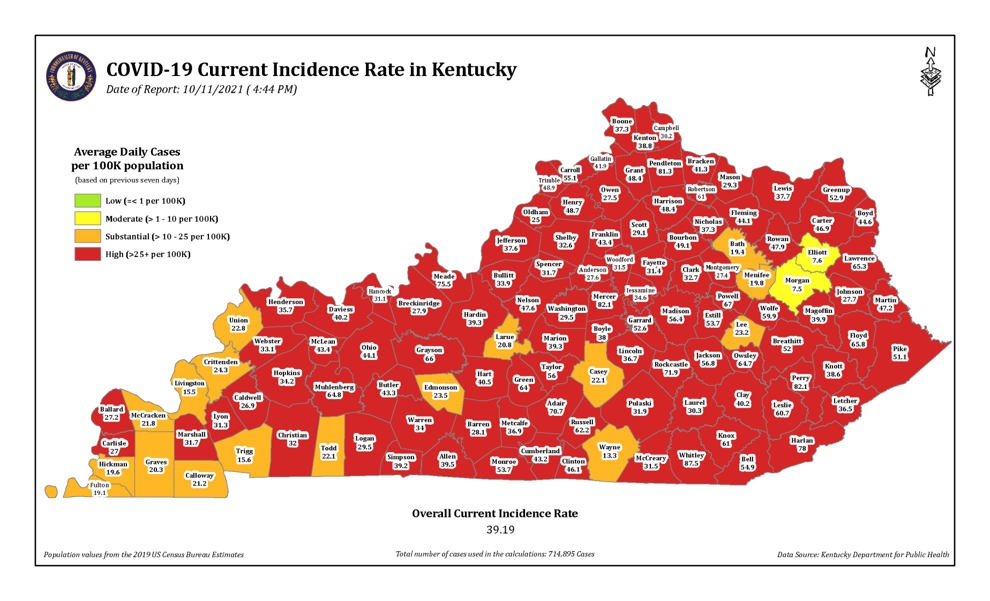 To date, Kentucky has had 714,904 known COVID-19 cases, including 9,150 deaths. 
So far, 2,745,220 Kentuckians have gotten at least one COVID-19 vaccine dose. 
Click here for more information on vaccine providers in the Local 6 area. To make a vaccine appointment from anywhere in the country, visit vaccines.gov. 
Click here to view Kentucky's COVID-19 Vaccination Dashboard.
Click here for more information about the available COVID-19 vaccines from the Centers for Disease Control and Prevention.