It wasn't that long ago that opposing fans directed the "Over-rated!" chant toward Lyon County freshman Travis Perry. In fact, he said those jeers are one of the things he misses most during this pandemic-altered season with small crowds. But one thing he is not is overrated. Need proof? Just look at his point total.
On Feb. 23 in an 86-56 home win over Crittenden County, Perry recorded his 2,000th career point, becoming the fastest-ever player in the state to reach that milestone. With the school's all-time scoring mark of 3,300 points certainly within his grasp, Perry and his dad, Lyons head coach Ryan Perry, spoke with The Sun about the 2,000-point milestone and Travis' burgeoning legacy.
"What Travis has done is special," Ryan Perry said. "He's a different kind of talent. He's wired a little bit different than a lot of other people."
The milestoneIn scoring 2,000 career points, Perry joined Ty Rogers (3,300 points from 1998 to 2004) and Keith Matchen (2,096 points from 1987 to 1991) as the only Lyons to achieve the feat. That he did so as a freshman makes it all the more remarkable. But the humble, team-first Perry has never really focused much on personal benchmarks.
"I just think about going out and getting better every year as a team," he said. "My teammates have helped me get to that (milestone) by getting me the ball when I'm open and playing as a team."
While that Feb. 23 game was a big one in Perry's career, there's perhaps no better example of his attitude toward his own stats than his reaction to what happened the night before when the Lyons faced Murray in the All "A" Tournament.
Averaging 27 points per game on the season, Perry was widely expected to reach the 2,000-point mark against the Tigers, as he was just 18 points shy. Murray held him to 16 points in a 54-50 win, and those final two points were the furthest thing from his mind afterwards.
"I wasn't really worried about missing 2,000 points. I was more upset and frustrated about losing a game we should've won," he said. "We knew that we were probably the better team, and we just didn't come out and play our best game that night. That loss was on me. I didn't really step up like I needed to in that game."
Perry was hard on himself for not leading his team to a victory over Murray, but he rebounded to make six 3-pointers and score 34 points in the win over Crittenden County the very next night. His 2,000th career point came via a free throw midway through the first quarter.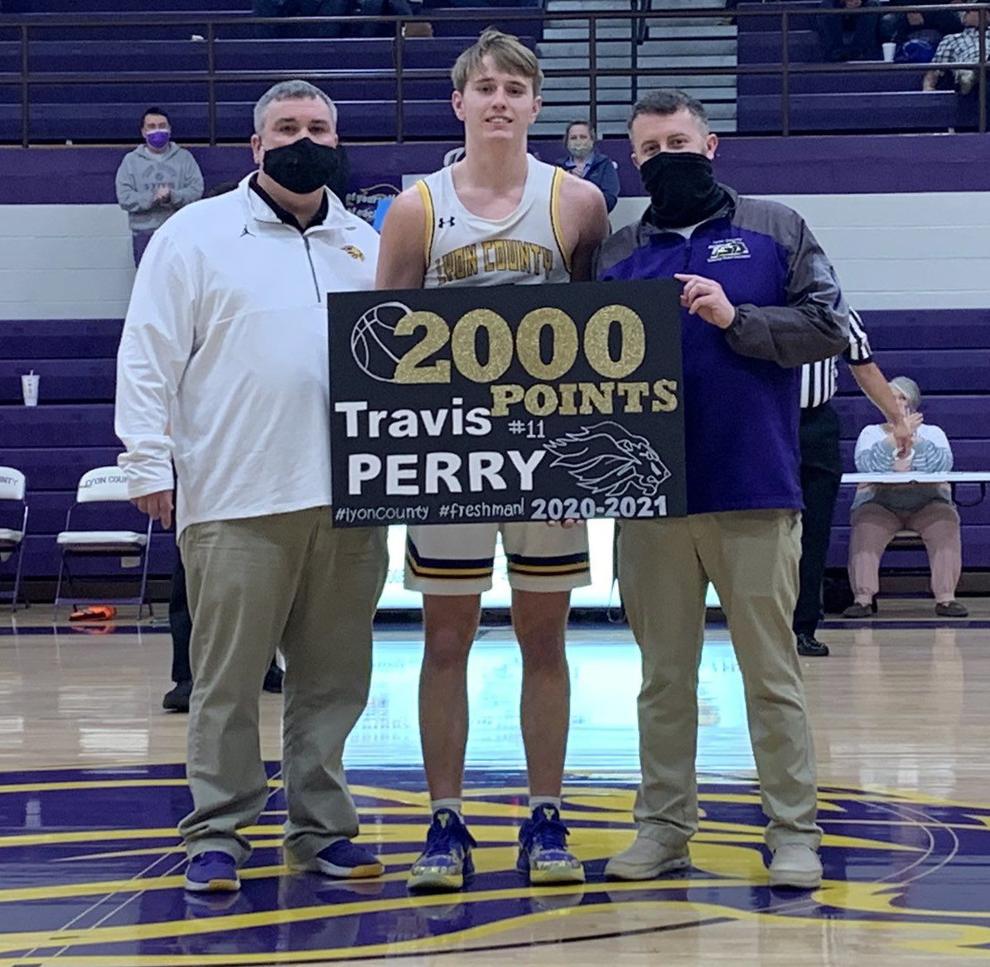 "It's a thing that not many people get to experience, so I'm really humbled by it and grateful for the opportunity," he said of the milestone. "My teammates and coaches have helped me get to it, and it's a great thing."
But it's not something he ever specifically strove for.
"Whenever I started out and had a good year as a seventh-grader, my coaches that year told me that if I just kept getting better that it could happen. But I didn't really think about it too much," he said. "I just decided that we were going to go out and try to get better each year."
In fact, according to his dad, it's a milestone that could've gone unnoticed if not for a text from a media member about how close Travis was to reaching 2,000.
"Our family is so wrapped up in the basketball season and watching film, we could've missed it," Ryan Perry said. "After I got that text, I got on KHSAA.com and started adding points up to make sure he was right."
Perry has surpassed 2,000 points, but his basketball journey is still in its relative infancy. He joined the Lyons' varsity squad as a seventh-grader under head coach Jeff Embrey, whom Ryan Perry credits with setting his son up for the success that he's had.
"A lot of coaches would've been scared to give the ball to a seventh-grader. But Coach Embrey recognized the talent that Travis was and gave him the basketball, and he had good guys around him that helped him," Ryan Perry said. "I think the confidence Coach Embrey instilled in that first year set everything in motion."
Travis also credited Embrey with putting him on the right path.
"He really encouraged me by giving me the opportunity and believed in me," he said. "I'm really grateful to Coach Embrey."
Perry scored 638 points (20.6 per game) as a seventh-grader and added 852 points (26.6 per game) the following year in his dad's first season as coach. This season, as a freshman, he has scored 709 points (27.3 per game) thus far in helping to lead the high-scoring Lyons to a 22-4 record and a Fifth District championship.
He closes this season with 2,199 career points after scoring 20 in Monday's Second Region tournament loss to Hopkinsville. But, according to his dad, that's not a number he could rattle off to anyone who asks.
"I'm positive he doesn't track his points," Ryan Perry said. "He's not a kid that's worried about that. He wants to win a state championship, and the points are just the result of trying to do that. He scores a lot of points, and it works out to help us win."
Helping him score a lot of points is the talent that surrounds him on the floor. With players like Jackson Shoulders, Brady Shoulders, Gunnar Bingham and Jack Reddick also very capable offensively, opposing defenses can't necessarily key in on Perry.
"This year, we're not seeing near as many triangle-and-two and box-and-ones as we saw in Travis' seventh- and eighth-grade years. If you do that this year, you're probably compromising your team's chances of winning the game to stop one player because we have a team full of guys who can play," Ryan Perry said. "That's been a blessing and has helped out a lot and has made life easier for Travis."
Perry has found kinship in reaching 2,000 career points and has forged a bond with the only other two Lyons who have done it in Rogers and Matchen. Rogers' dad, Jeff, has closely followed the Lyons this season while contributing game recaps for The Sun, and Perry and Ty talk occasionally, as the latter lives in Louisville.
"Ty is very supportive. We really wish he lived closer to where he could be around and be involved. Travis has some correspondence with Ty, and hopefully that'll pick up as time goes on," Ryan Perry said. "One of his biggest supporters is Jeff Rogers, which is special. That means a lot to Travis, and it means a whole lot to us. Jeff is about good basketball, and I think he's kind of reliving some of those memories of Ty's days through the stuff we're doing now, and that's really special too."
Matchen, meanwhile, is an assistant coach for the Lyons and is another big supporter of Perry's.
"Keith has kept me grounded and has inspired me through the whole thing," Perry said. "And Jeff has come to all of our games and has shared stories with me about Ty and what he did and how he experienced it, which has helped me be humbled by it and just grateful for the opportunity."
Ryan Perry said he appreciates how Matchen has bonded with his son.
"From me as the coach, Travis doesn't always get a pat on the back, and Keith is really good about letting Travis know when he's done something good and how important it was," he said. "Keith was a great player back in the day, and he has a lot of good memories and a lot of good knowledge about basketball, so he's been very instrumental with our guys, and it's been nice to have him around."
With Perry still just a freshman, it may be a little early yet to be discussing his Lyon County legacy. But there's no doubt that he's generating buzz and creating a name for himself while leading the Lyons to great success.
"It's early to talk about a legacy, but he's doing some pretty phenomenal things already. And if he can stay healthy, the progression of what's to come could be really special," Ryan Perry said. "His legacy is being built as he goes."
While he recognizes the special talent that Travis is, Ryan Perry is never one to go easy on his son.
"I'm hard as a coach, so I'm always a critic of everything. So even when he has phenomenal nights, I still find fault in some things," he said. "That's just kind of my nature. I'm kind of a perfectionist in everything I do, and it carries over into coaching."
Travis just sees those teaching moments as constructive criticism. He enjoys being the coach's son.
"He really keeps me grounded," Travis said of playing for his father. "Even when I have good games, he'll tell me, 'Good game. I'm proud of you.' But then he gets to what I did wrong in the game, which I enjoy because it helps me become a better player and better person."
Ryan said Travis has matured a lot on the court and has developed into a "pretty good all-around basketball player."
"He scores a lot of his points off of defense and getting steals, and that's what good scorers do is find a way to score the basketball in different ways on all levels," he said of Travis. "He's matured in how he's scoring his points and taking what the defense gives him and not forcing things. He's getting better at moving without the ball — we've seen a lot of growth this year in that — and as that gets better, it's just going to make him even harder to guard because that adds another dimension to his game."
That progression portends that Perry is only going to continue improving as he continues through his high school career. With 2,000 points now in his rearview mirror, many people outside the program are abuzz about him being on course to break Rogers' school scoring record. That's not what Perry is concerned with, though.
"Everybody has been saying stuff to me about it and that I should get it, but I'm trying not to worry about it," he said. "I'm just worried about what I can control with playing the best that I can every night for my team, because as soon as you start worrying about how many points you get each night or in your career, you start becoming selfish. I want to be a team player."
It's that humility that makes his dad most proud.
"He's done incredibly well, and he's done it with humility. That's the thing I'm most proud of is that I don't think you'll run across a kid who's more humble than Travis. That's always been his best attribute, and we told him that if he stays humble he'll go far," Ryan Perry said. "The goal of breaking Ty's record is not a goal that we have pinpointed. It may happen, but it's not anything that we've earmarked as wanting to take down."